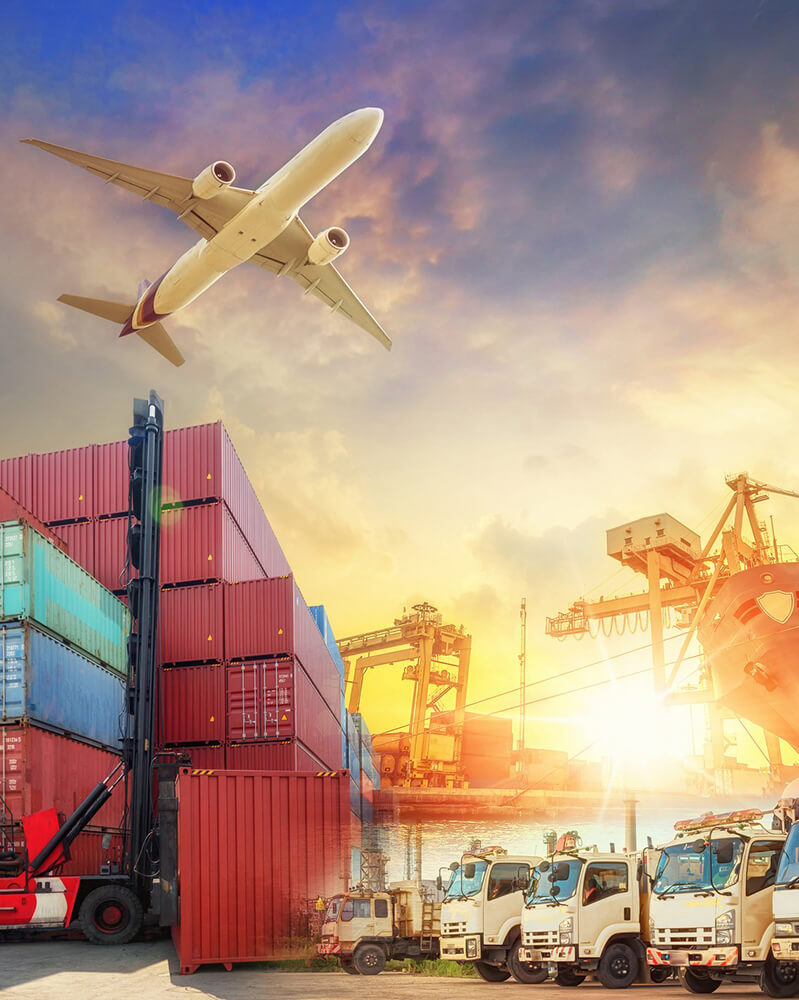 Multimodal transportation is a part of a complex logistics chain of cargo transportation, which is a full cargo forwarding service of one customer with several different modes of transport (sea, rail, air, automobile) simultaneously.
The relevance of high-quality multimodal transport operations in the world today is extremely high. Speed, safety, transparency, and reasonable price are the key requirements of Cargo Owners who want their goods to be transported over long distances to other continents and hemispheres to their logistics operator. That is exactly what the customer gets by choosing this type of transportation.
The modes of transport to be used in combination for multimodal transportation:
Overland transport is both practical and essential for complicated loading schemes from different suppliers. A car can easily reach most locations and pick up/deliver the required goods directly from/to the Shipper/Consignees warehouse.
Water transport, i. e. sea and river transport, is relevant when the delivery points are connected by a waterway. The main advantage of water transport is its outstanding carrying capacity. Marine vessels and ocean container carriers are used to transport most of the cargo, except in rare circumstances.
Rail transport is an affordable and reliable delivery method that is not heavily dependent on weather conditions, seasons, and fuel crises. It is the most appropriate choice for long-distance transportation within the continent with poor road communications.
Air transport is the fastest but most expensive delivery method. This method is not suitable for all types of cargo but it is particularly appropriate when transporting expensive small shipments over long distances.
Calculating the Cost of Multimodal Transportation
Leave a request
The Advantages of Multimodal Transportation with ALEV-TRANS
1. Responsibility for the cargo at all stages. Several highly qualified specialists of one company carry out the development of the optimal route, freight calculation, control at all stages of transportation;
2. The shortest time to agree on the technical details of the transportation and the packages of shipping documents;
3. Full and reliable information on the status of transportation, the shortest time to process any request;
4. Route optimization, making appropriate changes to the transportation process with regard to objective circumstances, wishes, and requirements of the customer;
5. The constant search for ways to reduce the cost of services and improve service quality for all modes of transport. We carefully select the most reliable contractors and overland, maritime and air transport.
The Customs carrier status
Extensive cargo transportation geography
Individual selection of route and transport
Complete cargo delivery control
Cost calculation
If you have any questions, please fill out the form below.
Our Manager will contact you shortly.