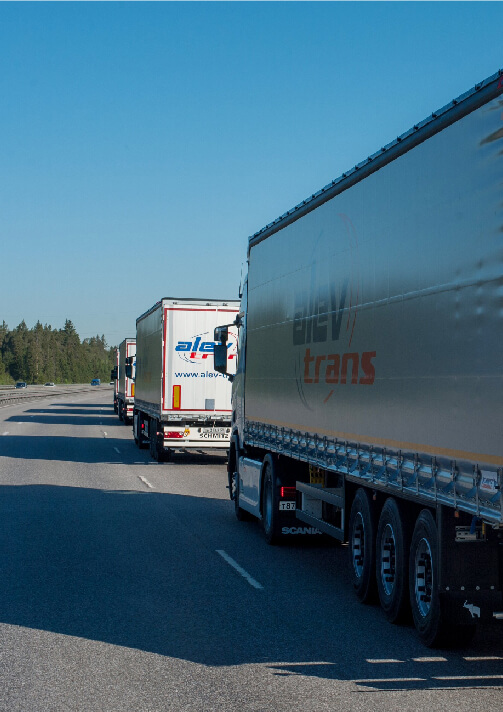 Road haulage is the fastest, the most cost effective, and very often the only cargo delivery method. OOO "ALEV-TRANS" has been delivering goods of various volumes and dimensions for 20 years throughout Europe, Russia, the CIS countries and Asia.
Why should you entrust transportation to us?
We carry goods by our own transport and use vehicles of reliable Carriers only, proven by years of successful cooperation
We guarantee the cargo safety. The liability of the Carrier/Forwarder is insured at TT Club for 2.5 million euros
Cars are equipped with mobile communications and satellite-aided tracking system. The customer is always aware of where the cargo is
Competitive freight rates and a flexible approach when negotiating them
Representation of interests in customs authorities
We are attentive to details and always take into account the transportation peculiarities and the customer suggestions.
Advantages
Global reach of international routes cargo transportation
Individual selection of route and transport for each customer
full control over the goods delivery - from loading to transfer to the recipient
execution of forwarding documents, including customs
a broad list of additional services, such as insurance, packing, etc.
Pick-up of cargo from the place of dispatch
delivery to customs terminal
Customs clearance
Delivery of cargo to the customer
Calculating the Cost of Road Transportation Services
Leave a request
The Advantages of Road Transportation Services offered by OOO ALEV-TRANS
1. The company has its own modern fleet of freight trucks and semi-trailers with the average age of less than 3 years;
2. The company has the Customs Carrier Status;
3. The company offers extensive geography of cargo transportation both throughout the country and abroad;
4. The route and the mode of transport are selected individually for each customerr;
5. The company fully controls the delivery of the cargo starting from its loading up to its transfer to the recipient;
6. The сompany provides assistance in the preparation of support documentation, including customs documentation;
7. The company offers a wide range of additional services such as insurance, packaging, etc.

Own modern vehicle fleet
The Customs carrier status
Extensive cargo transportation geography
Cargo delivery control
Cost calculation
If you have any questions, please fill out the form below.
Our Manager will contact you shortly.